Welcome to Osaka, and welcome to Osaka Museum of Natural History.
This museum aims to show the scheme and structure of "nature" surrounding humans, and to convey on how Nature has transformed to its present state. We also showcase many interesting wildlife and nature that can be found in our daily lives living in Osaka.
For overseas visitors, this museum may serve as a starting guide for you to find out the common and different points between the nature you live in and the nature in Osaka. Please come up with clues to think about the relationship between humans and the nature that encompasses our entire society. The Osaka Museum of Natural History is a fun place for children and adults to learn more about nature. We have prepared several tools to guide you in our website.
Please enjoy our museum and the nature of Japan.
Opening day calendar
The Current month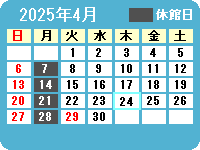 Next month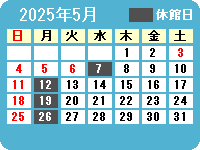 Opening hours
March to October / 9:30-17:00 (Entrance closed at 16:30)
November to February / 9:30-16:30 (Entrance closed at 16:00)
Closed
on Mondays (in case of holiday, close on the next day) ,
Dec. 28 -Jan. 4
Special exhibition "The Dinosaur Expo 2023" From 7th Jul. 2023 to 24th Sep. 2023 ==>Link